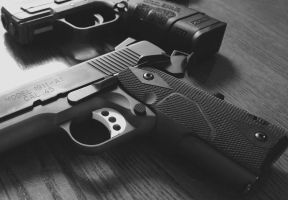 Standing with legislators, gun-safety advocates, and mass-shooting survivors, Governor JB Pritzker signed House Bill 562, landmark legislation which expands background checks on all gun sales in Illinois and provides mental health funding for communities most impacted by gun violence, among other life-saving measures. The legislation is the latest effort by the Pritzker administration and General Assembly to address gun violence as a public health crisis, building on the $128 million investment in violence prevention programs included in this year's state budget. In the last decade, the number of Illinoisans with a FOID Card has nearly doubled without modernization of statutory framework or technology – from 1.2 million in 2010 to 2.2 million today. The legislation includes a few of the following:
Expands background checks to all gun sales in Illinois starting in 2024.
Invests in community-based, trauma-informed mental health programs in the communities most impacted by gun violence.
Requires ISP to remove guns from people with revoked FOID cards who have not surrendered their weapon.
Creates a stolen gun database and requires ISP to continuously monitor state and federal databases for prohibited gun buyers.
Creates stronger identification factors, like fingerprints, so Illinois State Police can more easily verify the identity of FOID applicants and firearm purchasers, as well as increase the frequency of background checks. Allows responsible gunowners who opt into this process to see their FOID and Concealed Carry applications expedited and automatically renewed going forward. 
HB 562 takes effect January 1, 2022 except universal background checks which take effect January 1, 2024.