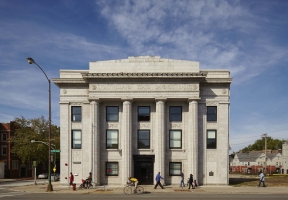 Rebuild Foundation, the arts, education and cultural development organization founded by artist Theaster Gates, announced its newest Black and Brown culinary artists in residence: BIPOC-owned cocktail company Pour Souls and Chef Jazer Syed of Collective Ventures at Retreat at Currency Exchange Café. Retreat, an artist-led activation aimed at providing a platform for creatives in food, music, art and more to develop their work, is an extension of Gates' Black Artists Retreat and Rebuild's work to empower creatives through innovative cultural initiatives.
Retreat's newest residencies are ongoing evidence of Rebuild Foundation's commitment to growing and empowering local businesses and Black and Brown entrepreneurs in the culinary arts. Pour Souls and Collective Ventures will join Black-owned coffee company, Monday Coffee, as the next food and beverage residencies at the historic cafe. Pour Souls, Collective Ventures and Monday Coffee Company will be in residency at Retreat until December 31, 2021.
Pour Souls, a Black-owned cocktail company founded by Chicago-native and bar industry veteran Tim Williams in 2011, will curate the beverage programs for Retreat on Thursdays and the Stony Island Arts Bank on Sundays. In addition to their role at Retreat, Pour Souls offers cocktail classes and a line of cocktail starters for libation lovers across Chicago.
The café—which serves coffee, tea, cocktails and light bites at at 305 E. Garfield Blvd—also offers co-working space with Wi-Fi, small meeting space for creative entrepreneurs and a commercial kitchen for culinary artists, restaurants and licensed food vendors to serve South Side patrons after devastating restaurant closures caused by the COVID-19 pandemic. The café, which is now also open on Mondays, is welcoming guests during the following hours:
● Monday – Friday: 8 a.m. – 3 p.m.
● Thursday's Weekly Happy Hours: 5 p.m. – 8 p.m.