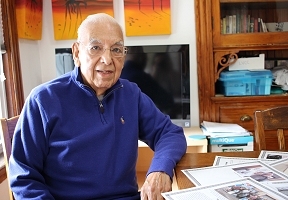 By: Ashmar Mandou
Among his time working his way up the ranks of the Chicago Typographical Union No.6, to working as a public servant working under the administration of Mayor Richard M. Daley, to serving as president of the Little Village Community Council, August "Augie" Sallas was the epitome of tenacity and compassion. Sallas spent the majority of his life dedicated to uplifting his community of Little Village by orchestrating a plethora of social services to all those in need of an opportunity. "Nothing gave me greater joy than to see the lives of residents from Little Village change for the better," Sallas once said.
Throughout his years, Sallas sacrificed, worked tirelessly, motivated youth, created safe spaces, and diligently addressed the social injustices that occurred in Little Village. He lived in Little Village, worked in Little Village, dreamed of Little Village, and quickly became the embodiment of the love and spirit of Little Village. Born in 1935 on the South Side of Chicago to Mexican immigrants, Sallas spent the majority of his formative years at the North Side of Chicago Angel Guardian Orphanage (AGO), when both of his parents passed away. "I learned a lot living in that orphanage," Sallas once said to Lawndale News. "I learned about how children deal with grief, I learned about human nature, I learned the importance of building a sense of community."
It is with a heavy heart that we say goodbye to one of the greatest local heroes of Chicago, Augie Sallas, 86, who passed away on April 1st, surrounded by loved ones. Sallas leaves behind a tremendous legacy through the people he inspired, the opportunities he created for the youth of Little Village, and through his work to build a stronger sense of community. We thank you, Augie Sallas for all your contributions and achievements over the years. We thank you for paving the way for others to follow suite in the realm of public service. We are indebted to you for all your generosity and kindness. And we hope to live our lives in the same manner you lived yours, with integrity, honesty, and dignity.
"Whether it was his years as a labor organizer or working in public service, nothing made Augie happier than helping improve the lives of the residents of his community. We owe him a debt of gratitude for his tireless efforts on our behalf." -State Representative Lisa Hernandez
"The Little Village community has lost a tremendous advocate as we mourn Augie Sallas' passing. As President of the Little Village Community Council, Augie dedicated himself to making the lives of our community members better – whether it be through youth development programs or connecting families with support systems. Augie cared deeply about Little Village, and he inspired many. I am personally grateful for his years of leadership, and I extend my deepest condolences to his family and friends." –Alderman George Cardenas
"August Sallas was human nature, a born mentor, an inspired public servant and lived his life dedicated to the community he loved so much, Little Village." -Iris Y. Martinez, Clerk of the Circuit Court of Cook County.
"Augie Sallas was one of a kind. He led a life dedicated to public service, always working hard to champion the Little Village community he loved with all his heart. As a leader in the Little Village Chamber of Commerce, he championed economic development along 26th Street and was known for his kindness and caring towards every senior citizen he ever encountered. He was also loved and respected for his dedication to youth. His boxing program helped thousands of youth work out their frustrations in the ring instead of in the streets. Augie will be sorely missed, but fondly remembered. May he rest in peace, in God's glory." –Illinois State Comptroller Susana A. Mendoza
"Augie Sallas inspired me to live my life the way I do now. To elevate the perspective of our community, value our contributions and treat people with dignity." -Cesar Rolon, President – Imagen Marketing Consultant
"Augie Sallas was a major Latino labor leader and was always on the front end of Latino activism. He was a small business owner and gave a lot of his time to the community, volunteered his time at community events and held boxing classes for the youth. I considered him a friend of mine and appreciated him being a big supporter of veterans." –Assistant Majority Leader Tony Munoz