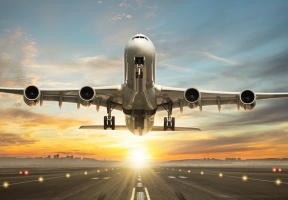 Mayor Lori E. Lightfoot announced that S&P Global Ratings (S&P) and Fitch Ratings (Fitch) have upgraded their long-term ratings for Chicago O'Hare International Airport (O'Hare) General Airport Revenue Bonds (GARB) by one notch from "A" to "A+" with a stable outlook. S&P has also upgraded the Passenger Facility Charge (PFC) long-term rating from "A" to "A+" with a stable outlook. This is the first set of rating upgrades on O'Hare in six to seven years.  The last time S&P and Fitch upgraded O'Hare was in 2015 and 2016, respectively. In the first year of the COVID-19 pandemic, O'Hare was also one of the few large hub airports not downgraded by S&P, proving the competitive market strength of the airport. The upgrade is due a number of factors, including:  
• Air traffic has recovered to about 80 percent of pre-pandemic levels. Early indications show traffic recovery will continue to improve this year and beyond. 
 
• O'Hare financial metrics have improved materially since 2015. Debt service coverage has increased from 1.08x in 2015 to 1.36x in 2022. Liquidity has improved from 167 days in 2015 to 476 days in 2022. The City improved these financial metrics over the last three years despite the challenges brought on by the COVID-19 pandemic. 
• The $1 billion redevelopment of Terminal 5 is nearing completion. Ten new gates will open in phases at Terminal 5 and a grand opening is planned for later this year, creating about 25% of the total expected capacity expansion of the airport capital plan. This major component of the capital plan nearing completion lowers risk for the airport overall. 
Learn more at www.ord21.com.