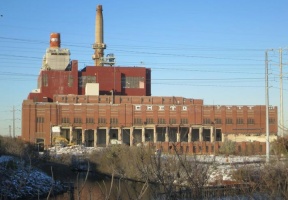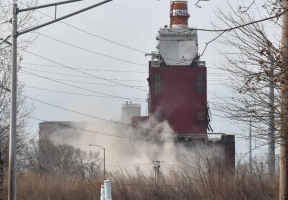 By: Ashmar Mandou
The debacle that was the 2020 Hilco plant implosion, which left residents of Little Village covered in dust, could have been avoided, according to a 94-page report from then-Chicago Inspector General Joe Ferguson, which was brought to light this week.
The report placed blame on three Chicago officials who were involved, along with developer Hilco, in planning for the implosion of the nearly 400-foot chimney at the old Crawford coal-fired power plant and referred to the move as "negligent," harming Little Village residents.
"It is unfortunate that so many leaders in our city looked the other way as Little Village – one of our communities with the highest numbers of essential workers and one of the highest rates of COVID infections and fatalities – was blanketed with a plume of toxic dust," said Ald. Byron Sigcho-Lopez. "Chicagoans must take this report as a wake-up call; we keep us safe. We need public servants with a long record of honest public service to build transparency, meaningful community engagement and accountability into our municipal decision making, not politicians at the helm, protecting their political donors and putting their next career moves before the working people who they ignore until the two weeks before Election Day."
In the long-secret report, then-City Hall Inspector General Joe Ferguson recommended disciplinary action be taken against two city Buildings Department employees, Marlene Hopkins and Jorge Herrera, and Dave Graham, an assistant commissioner in the city Department of Public Health, for their oversight failure, "which should factor the magnitude of the public health, welfare and safety threat to innocent, unwitting community members."
"The release of the Chicago Inspector General's report on the Hilco disaster is more proof that Chicago desperately needs change in the mayor's office. Chicagoans deserve a mayor who will prioritize the health and safety of our communities – not one who fails our families and then engages in cover-ups," said Mayoral Candidate Brandon Johnson.
Congressman Jesús "Chuy" García, candidate for Mayor of Chicago, released a statement regarding the Hilco implosion. "I live near the old Crawford plant – this is my neighborhood and those harmed were my friends. That Lori Lightfoot would cover up a preventable disaster is unconscionable. Her administration's cover up, bad decision-making, and lack of accountability is emblematic of the incompetent and corrupt decision making that we have come to expect from Lori Lightfoot," said Congressman García.  "Chicagoans have long deserved to see the Inspector General's report but rather than being open and honest with Chicagoans, Lori Lightfoot decided to cover it up, stick by the failed leadership that was responsible, and lie to all those that were harmed by this disaster. If Lori Lightfoot is willing to cover up something of this magnitude then we know she is willing to do anything to avoid accountability."