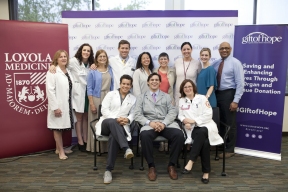 Fue una reunión única para cuatro familias que se reunieron en Gift of Hope el pasado jueves. Aunque nunca se habían encontrado antes y no tienen una relación sanguínea, las familias comparten un vínculo especial que trasciende etnicidad, religión, estado económico y geografía – creado por el legado de donar vida de Germaine Cullum Jr., de 16 años, de Chicago.
Germaine, de 16 años y alumno de segundo año de secundaria de la Escuela Preparatoria Jesuita Christ the King, colapsó y murió mientras jugaba baloncesto en mayo del 2014 y dio vida a tres personas como donante de órganos: a Tarik Causay de Chicago, de 39 años; a Celia Fabre de Chicago, de 48 años; y a Karen Emerich de New Carlisle, Ind., de 57 años. "Ellos son ahora mi familia", dice la Madre de Jermaine, Tarcia Patton.
Emerich, maestra del séptimo grado recibió los pulmones de Jermaine durante un doble transplante de pulmones en el Centro Médico de la Universidad de Loyola el pasado mayo. Por cinco años, Emerich batalló con la fibrosis pulmonar, condición que causa cicatrices en los pulmones y hace difícil el respirar. "Antes del transplante, no me animaba mucho a salir fuera", recuerda la madres de cuatro hijos y abuela de siete. Ahora su lista de actividades es larga y disfruta la oportunidad de anotar cada lugar al que va, incluyendo su primer paseo en la montaña rusa en abril. "Quiero asegurarme de que llevo una vida plena en honor a mi donante", agrega.
Causay comparte el sentimiento de Emerich. El agradecido padre de tres hijos recibió el riñon izquierdo y el páncreas de Jermaine en el Centro Médico de Rush University hace un año.
"No lo conocí, pero siempre está conmigo", dijo Causay, limpiándose las lágrimas. Diagnosticado con diabetes a los 16 años, soportó diálisis renal por varios años y pasó cinco años en la lista de espera antes de saber que se habían encontrado los órganos. Causay mantiene el obituario de Jermaine cerca de su cama como constante recordatorio de quien le diera una segunda oportunidad de vida.
"Me dio el regalo perfecto", agrega. Fabre recibió el riñón derecho y el hígado de Jermaine. A los tres años fue diagnosticada con una rara enfermedad genética llamada hiperoxaluria primaria. Después de pasar tres años y medio en la lista de espera.
"Estaba encantada de conocerlos", dijo la madre de Jermaine, "Sabiendo que mi hijo vive en cada uno de ellos. Los abrazaba y no quería soltarlos. Nuestra familia ha crecido".